French language & cultural immersion in the South of France
French language & cultural immersion in the South of France
Be immersed in the French socio-cultural context
Don't to spend your entire stay stucked in the classroom. Be immersed in the French language and culture. Follow your French teacher or a French guide while strolling through vineyards, chatting over a coffee, tasting wine, visiting a Cathar castel, canoeing on the lagoons, rubbing shoulders with the French locals.
This way you constantly build on and reinforce your French language skills and discover French culture.
Our French language immersion program
Our French language immersion program is a perfect opportunity to combine French courses with discovering the wonderful region of South of France through interesting social, cultural, sportive activities and excurions.
Occitanie-Pyrénées-Méditerranée (Languedoc-Roussillon) with its culture, history and landscape offers a huge amount to see and do.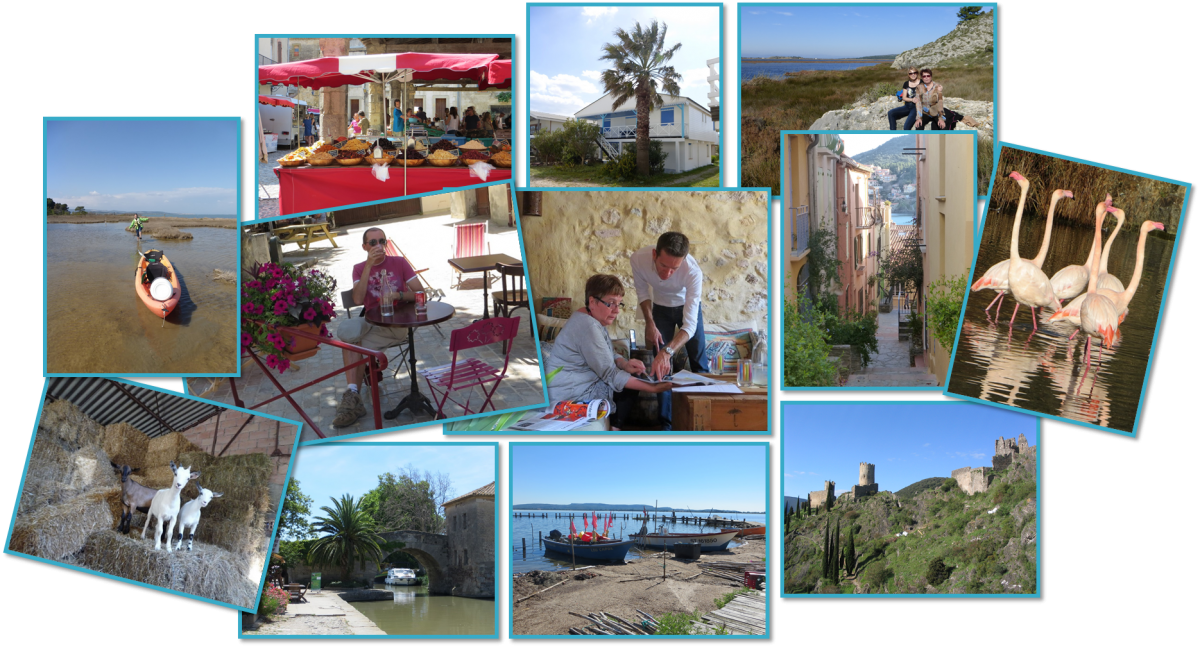 Because only individual students or very small group students benefits of our French immersion program, the content of your course as much as the choice of the activities will be chosen based on your interests.

During the French immersion program, French is learnt and practised both in and out of the classroom. You will live ceaselessly in the French language and improve constantly your French with your private teacher.
Speak French more fluently, naturally and confidently
The morning, we will start our day in the classroom with a structured course based on a communicative task-oriented approach, tailored to meet your needs.

Next, for lunch, over a great homemade meal or picnic, and a glass of wine (consumed in moderation), you will go on learning with informal conversations. (Note, please that if you can't eat some food because of medical, philosophical, or religious reasons, quote it in the pre-registration form).

Then, the afternoon will be devoted to your workshops and excursions. Your French teacher will be there to informally instruct you and help and encourage you to talk.
During the socio-cultural activities, Naturellement Français boosts meetings with French people. So, with the sharing of their way of life, you'll better understand their language and culture subtleties. You'll assimilate durably linguistic knowledge and be able to express spontaneously your feelings, points of view in diverse situations. In that way, learning French language becomes natural.
You'll be self-confident to practice French, more fluent, and thanks to advices and your customized program, I assure you fast improvements.

For a complete immersion, you can choose to live with a French family in the evening. You will share more about French lifestyle.
Sample of a French language immersion program
| Time | Monday | Tuesday | Wednesday | Thursday | Friday |
| --- | --- | --- | --- | --- | --- |
| 8h30 - 12h | French class | French class | French class | French class | French class |
| 12h - 13h | Lunch | Lunch | Lunch | Lunch | Lunch |
| Social programme | Village discovery and wine tasting | Rambling in the medieval village of Lagrasse | Foodies walking tour in a local market | Walking beside the Canal du Midi | Exploring a cathare castle |
| Time | Monday | Tuesday | Wednesday | Thursday | Friday |
| --- | --- | --- | --- | --- | --- |
| 8h30 - 12h | French class | French class | French class | French class | French class |
| 12h -13h | Lunch | Lunch | Lunch | Lunch | Lunch |
| Social programme | Discovering a cistercian abbey | Exploring a fishing village & salt marshes | Cooking workshop | Canoeing & exploring Narbonne's natural park | Rambling in the capital of Minervois |