Our French team: teacher and partners
Our French team: teacher and partners
Mickaël: director and French as foreign language teacher
In 2003, I decided to leave the Parisian turmoil life and my tough legal job, for North American great outdoors. I was able to breathe !
Life and happy encounters lead me to Ottawa where, one of the oldest and most highly respected language schools in Canada, Interlangues Language School, welcomed me and gave me the opportunity to teach French to English speaking civil servants and high-ranking officials.
Immediately, I was seized by a passion for teaching French as second language. The experience, is even more rewarding in this multicultural country. I taught, I learned, I evolved, I experienced this intercultural world. It's a permanent trip I wish go on.
Back in France, in 2007, and back to study. I wanted to strengthen my professional savoir-faire so I've passed my Language Science Master's degree in Français Langue Etrangère. Meanwhile, I renovated an old house in Fabrezan to make my pied-à-terre which will finally be our little school.
In 2008, I joined the French teachers' team of Eurocentres at La Rochelle, an internationally renowned Swiss foundation provided top quality language teaching.
With these experiences, I've decided in 2014 to create Naturellement Français. My mission is to offer you my knowledge in an intimate setting in which communication and exchange are highlighted in order to insure you a fast progression.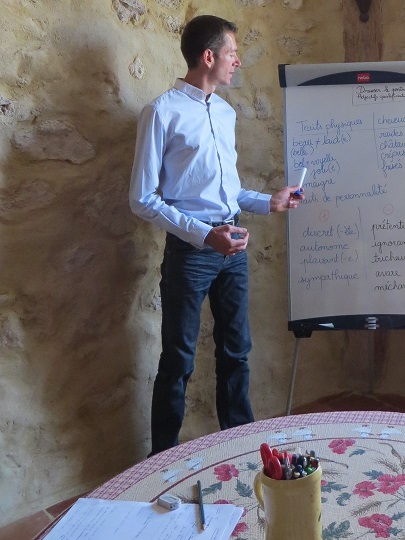 Our French local partners
Naturellement Français would not fulfilled its duties without the involvement and the collaboration, direct or indirect, of various and precious local participants.
Our partners intervention helps you better understand French people ways of life and values, acquire know-how when you meet the latter, and reach your goal : interact and communicate in real life situation.
Thus, we work with :
Craftmen who open their door while we visit ;

Small and local producers whom we make our groceries for the lunch or for the cooking workshop ;

Wine-growers' cooperative or wine-maker who make us taste their wines and exchange about their passion ;

Generalist or specialist guides who can guide us during rambles and explain us fauna and flora, local legends, etc.

Host family and service providers who offer accommodation ;

Restaurateurs or barkeepers who welcome you during your evening ;

The village of Fabrezan, the Aude department, the Languedoc-Roussillon (Occitanie-Pyrenean-Mediterranean) who support us with a range of activities we can be part of (festivals, exhibitions, open days, feria, bodegas, fleemarkets, tasting…) ;

Environmental organizations that take care of our preserved landscapes.